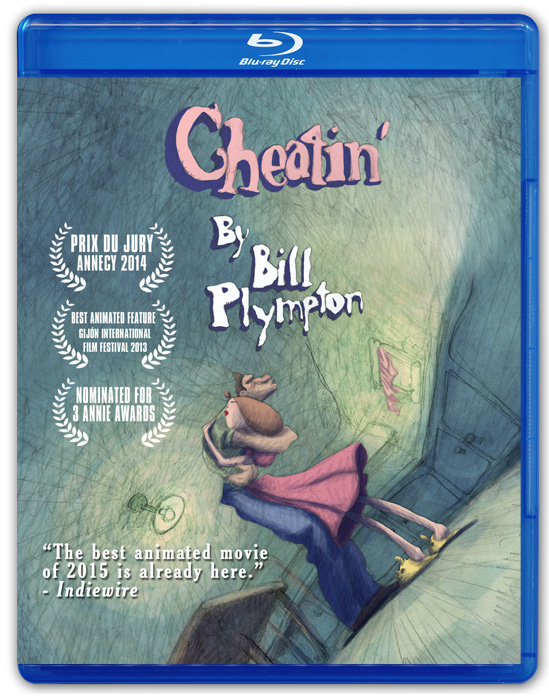 Cheatin' is the 7th animated feature film from Bill Plympton, and it's now available on Blu-ray!
In a fateful bumper-car collision, Jake and Ella meet and become the most loving couple in the history of romance. But when a scheming "other" woman drives a wedge of jealousy into their courtship, insecurity and hatred spell out an untimely fate. With only the help of a disgraced magician and his forbidden "soul machine", Ella takes the form of Jake's numerous lovers, fighting through dysfunction and deceit as they try to reclaim their destiny.
Bill Plympton personally drew over 40,000 frames in "Cheatin'" and ran a successful Kickstarter campaign that raised over $100,000 to help finance the production. The film was released theatrically in the spring and summer of 2015 and Bill went on the road to 20 indie theaters around the U.S. to promote the film. Before that, it played on the film festival circuit and won the Jury Prize at the Annecy Animation Festival in 2014, the AnimaFICX Award for Best Animated Feature at the 2013 Gijon International Film Festival in Spain, the Platinum Grand Prize at the 2014 Future Film Festival in Bologna, Italy and the Audience Award for Best Animated Feature at the 2014 Fantasia Festival in Montreal, Quebec, among other prizes.
Unrated – contains Adult Material
Details: 76 minutes / Color / Blu-Ray / Region A
Sku

CheatinBluray

Description

Cheatin' Blu-ray

Product Options

| # | Option | Price | Weight | Stock |
| --- | --- | --- | --- | --- |
| 1 | Blu-ray | $20.00 | 0.50 lbs | 777 |

Shipping

USPS - Artwork (Shipping Zones by Country)

| Weight | United States | Canada & Mexico | International | Zone 4 | Zone 5 | Zone 6 | Zone 7 | Zone 8 | Zone 9 |
| --- | --- | --- | --- | --- | --- | --- | --- | --- | --- |
| 0.01 lbs | $10.00 | $20.00 | $25.00 | $0.00 | $0.00 | $0.00 | $0.00 | $0.00 | $0.00 |

USPS (Shipping Zones by Country)

| Weight | United States | Canada & Mexico | International | Zone 4 | Zone 5 | Zone 6 | Zone 7 | Zone 8 | Zone 9 |
| --- | --- | --- | --- | --- | --- | --- | --- | --- | --- |
| 0.21 lbs | $6.00 | $12.00 | $14.00 | $0.00 | $0.00 | $0.00 | $0.00 | $0.00 | $0.00 |