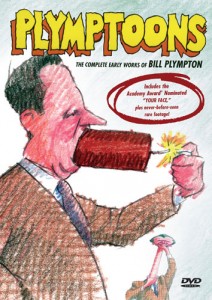 Featuring more than 20 acclaimed, award winning shorts plus two never-seen-before animations, PLYMPTOONS compiles the best and brightest work of the Academy Award ®-nominated animator Bill Plympton, master of the animated black comedy world. During the career spanning over 30 years, Plympton's creativity and talent have earned him countless accolades and a worldwide cult following. This uproariously funny collection brings together the very best of his early work including commercials, animated spots, and short film.
A journey through this political-cartoonist-turned-animator's canvas of animation, PLYMPTOONS offers up a delicious does of mutated humor, from Plympton's first college-era film, "Self Portrait" to the Academyt Award®-nominated "Your Face", his first solo effort.
SPECIAL DVD Features: Two exclusive Bill Plympton Documentaries, Sketch gallery, Animator Biography, Interactive Menus.
Details: 96 minutes / Color / NTSC / Region 1 (U.S. and Canada only. This DVD will probably NOT be viewable in other countries.)
Sku

plymptoonsDVD

Description

"Plymptoons" Compilation DVD

Product Options

| # | Option | Price | Weight | Stock |
| --- | --- | --- | --- | --- |
| 1 | DVD | $23.99 | 0.30 lbs | 0 |

Shipping

USPS - Artwork (Shipping Zones by Country)

| Weight | United States | Canada & Mexico | International | Zone 4 | Zone 5 | Zone 6 | Zone 7 | Zone 8 | Zone 9 |
| --- | --- | --- | --- | --- | --- | --- | --- | --- | --- |
| 0.01 lbs | $10.00 | $20.00 | $25.00 | $0.00 | $0.00 | $0.00 | $0.00 | $0.00 | $0.00 |

USPS (Shipping Zones by Country)

| Weight | United States | Canada & Mexico | International | Zone 4 | Zone 5 | Zone 6 | Zone 7 | Zone 8 | Zone 9 |
| --- | --- | --- | --- | --- | --- | --- | --- | --- | --- |
| 0.21 lbs | $6.00 | $12.00 | $14.00 | $0.00 | $0.00 | $0.00 | $0.00 | $0.00 | $0.00 |
Temporarily Out of Stock