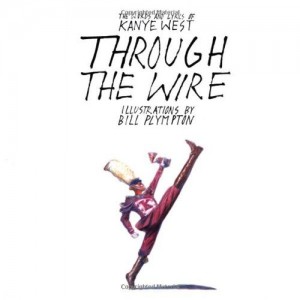 Through the Wire is a graphic memoir that illustrates the lyrics of twelve Kanye West songs to tell his story.
Bill Plympton illustrates each of the songs in detail, his vision of Kanye's world. The songs are annotated with explanations of the references in the songs, biographical components that illuminate the lyrics, and their meaning on a deeply personal level.
The result is a one-of-a-kind book that initially grabs you and stays with you forever.
NOTE: This book is OUT OF PRINT – however, we are purchasing used copies from either eBay or Amazon in order to keep them available here. We will seek out the best copies available in "Very Good" condition or better, but some copies may still have slight imperfections or light damage.
Sku

throughwire

Description

"Through the Wire" by Kanye West and Bill Plympton

Product Options

| # | Option | Price | Weight | Stock |
| --- | --- | --- | --- | --- |
| 1 | BOOK - USED | $22.00 | 1.30 lbs | 1 |

Shipping

USPS - Artwork (Shipping Zones by Country)

| Weight | United States | Canada & Mexico | International | Zone 4 | Zone 5 | Zone 6 | Zone 7 | Zone 8 | Zone 9 |
| --- | --- | --- | --- | --- | --- | --- | --- | --- | --- |
| 0.01 lbs | $10.00 | $20.00 | $25.00 | $0.00 | $0.00 | $0.00 | $0.00 | $0.00 | $0.00 |

USPS (Shipping Zones by Country)

| Weight | United States | Canada & Mexico | International | Zone 4 | Zone 5 | Zone 6 | Zone 7 | Zone 8 | Zone 9 |
| --- | --- | --- | --- | --- | --- | --- | --- | --- | --- |
| 0.21 lbs | $6.00 | $12.00 | $14.00 | $0.00 | $0.00 | $0.00 | $0.00 | $0.00 | $0.00 |
| 1.00 lbs | $9.00 | $20.00 | $40.00 | $0.00 | $0.00 | $0.00 | $0.00 | $0.00 | $0.00 |