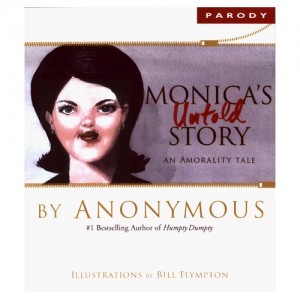 SPECIAL ITEM – Limited availability
Bill Plympton did the illustrations for this 1999 spoof of the Monica Lewinsky scandal, told in fairy-tale verse.
NOTE: This book is OUT OF PRINT – however, we are purchasing used copies from either eBay or Amazon in order to keep them available here. We will seek out the best copies available in "Very Good" condition or better, but some copies may still have slight imperfections or light damage.
We have a limited number of copies, signed by Bill Plympton.
Details: 66 pages / Color / Softcover
Sku

monica_book

Description

Monica's Untold Story

Product Options

| # | Option | Price | Weight | Stock |
| --- | --- | --- | --- | --- |
| 1 | BOOK | $25.00 | 0.70 lbs | 3 |

Shipping

USPS - Artwork (Shipping Zones by Country)

| Weight | United States | Canada & Mexico | International | Zone 4 | Zone 5 | Zone 6 | Zone 7 | Zone 8 | Zone 9 |
| --- | --- | --- | --- | --- | --- | --- | --- | --- | --- |
| 0.01 lbs | $10.00 | $20.00 | $25.00 | $0.00 | $0.00 | $0.00 | $0.00 | $0.00 | $0.00 |

USPS (Shipping Zones by Country)

| Weight | United States | Canada & Mexico | International | Zone 4 | Zone 5 | Zone 6 | Zone 7 | Zone 8 | Zone 9 |
| --- | --- | --- | --- | --- | --- | --- | --- | --- | --- |
| 0.21 lbs | $6.00 | $12.00 | $14.00 | $0.00 | $0.00 | $0.00 | $0.00 | $0.00 | $0.00 |