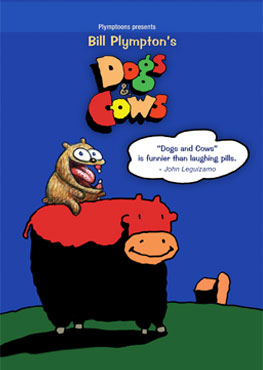 This DVD release is the FIFTH compilation of Bill's shorts, and contains the popular films "Horn Dog", "The Cow Who Wanted to Be a Hamburger", "Summer Bummer", and "Waiting For Her Sailor". You'll also find "The Flying House" (Bill's re-imagining of Winsor McCay's silent short) and the proposed TV pilot "Tiffany the Whale: Death on the Runway".
The disc is also packed with bonus features, like music videos, commercials, TV interviews with Bill, pencil tests, trailers and filmmaker commentary.
DVD's are region-free and now on sale!
Sku

DogCowDVD

Description

Dogs and Cows DVD

Product Options

| # | Option | Price | Weight | Stock |
| --- | --- | --- | --- | --- |
| 1 | DVD | $15.00 | 0.50 lbs | 428 |

Shipping

USPS - Artwork (Shipping Zones by Country)

| Weight | United States | Canada & Mexico | International | Zone 4 | Zone 5 | Zone 6 | Zone 7 | Zone 8 | Zone 9 |
| --- | --- | --- | --- | --- | --- | --- | --- | --- | --- |
| 0.01 lbs | $10.00 | $20.00 | $25.00 | $0.00 | $0.00 | $0.00 | $0.00 | $0.00 | $0.00 |

USPS (Shipping Zones by Country)

| Weight | United States | Canada & Mexico | International | Zone 4 | Zone 5 | Zone 6 | Zone 7 | Zone 8 | Zone 9 |
| --- | --- | --- | --- | --- | --- | --- | --- | --- | --- |
| 0.21 lbs | $6.00 | $12.00 | $14.00 | $0.00 | $0.00 | $0.00 | $0.00 | $0.00 | $0.00 |